Two elephant sculptures designed by twin sisters showcase the pair's 'whimsical and magical' style.
The sisters, Rachael and Phillippa Corcutt from Burton Upon Trent, Staffordshire, have created the magnificent elephants 'Clowning About' and 'Elle the Explorer', which are currently basking in the sun on Southend's iconic seafront.
The two elephants are part of Herd In The City's art trail, created by Havens Hospices and Wild In Art, on parade in Southend-on-Sea, Shoeburyness and Leigh-on-Sea until Monday 4 September.
After graduating from the University of Derby with first-class honours, the duo started working as an illustration collective, specialising in children's books. Working for publishers, including Harper Collins, they also create designs for prints and giftware. In the last three years, they have become seasoned art trail artists, painting over 20 sculptures for Wild In Art.
The sisters discovered a love for drawing and doodling at an early age, often drawing their own comic books in their teens.
Phillippa says, "We loved storytelling and dreaming up different ideas, which led us to consider illustration as a career. After finishing our illustration degree, we decided to set up our own illustration collective, mainly focusing on illustrations for children."
The duo have a similar style, fun and playful, with a whimsical and magical feel, often inspired by childhood memories and nature.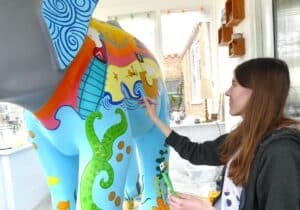 For 'Elle the Explorer', sponsored by Ipeco, the twins were inspired by travel and exploration, taking influences from Southend's maritime heritage and the beautiful beaches and pier. The design evokes a sense of discovery, from exploring the well-known Southend locations to discovering somewhere new.
For Clowning About, sponsored by COUNO, the pair wanted to create a bright and fun design that is instantly recognisable for adults and children alike. They also liked how clownfish, like elephants, have a caring nature – much like the amazing care and dedication given at Haven Hospices. There is even a hidden baby clownfish within the design for people to spot.
The sisters worked together planning their designs for the elephants, and each had an input in the colour scheme, style and design. It took them about two weeks to paint both elephants.
Rachael says, "Herd In The City has been such a fantastic project to be involved with, from creating the initial designs to painting the sculptures and seeing all the other amazing sculptures, as well as getting to know other artists and our sponsors.
"The trail has been a great way of showcasing our work and supporting a fantastic cause. It's lovely to see all the elephants bringing colour and joy to Southend and seeing so many people enjoying them."
Havens Hospices provides specialist care and support for people of all ages living with incurable conditions and their families. This care and support includes everyone, extending to partners, family and friends to make sure the right support is there for patients and the people who matter to them, where and when they need it.
The care is provided absolutely free of charge and is only made possible thanks to donations and fundraising initiatives such as Herd In The City.
After the trail ends, the large and baby sculptures will join together to say goodbye at the
'Farewell Weekend' on 23 & 24 September at Saxon Hall. This unique opportunity will allow people to see all the large and baby elephant sculptures in one place after their summer showcase across Southend-on-Sea. Find out more and book tickets at www.herdinthe.city/farewell
Contact us