Excited schools and groups have been treated to a sneak preview of their spectacular baby elephants before Herd In The City launches later this month.
Herd In The City – created by Havens Hospices and Wild in Art – will have over 45 large elephant sculptures and 72 baby elephants dotted around the city from Friday 14 July to Monday 4 September, including Shoeburyness and Leigh-on-Sea.
The baby elephants are all part of the Learning Programme, sponsored by Rickard Luckin, which allows children, young people and community groups to experiment with different art forms, empowering them to take ownership and showcase their artwork to thousands of people, making art accessible to all.
The preview event, held for everyone involved in the Learning Programme, saw people of all ages enjoying the ele-phantastic art created by the local community, including schools, youth groups and a care home.
Richmond Avenue Primary School in Shoeburyness received hundreds of designs following a school-wide competition. Their pupil council whittled them down to three, which were all selected for the final design. Their baby elephant is called 'Halaya' and means 'sanctuary or safe harbour', which the school thought was a fitting name given who they were fundraising for. The other designs included on 'Halaya' are animals and an inspiring quote – 'follow every rainbow until you find your dreams.'
Headteacher Miss Moneypenny says, "We are all very excited about the launch and the trail. For the last trail, Hares About Town, the children were challenged to find as many hares as possible over the summer, and it became a school-wide challenge. Lots of children are already talking about Herd In The City and the challenge of not just finding our elephant but going on the hunt to find as many as they can!"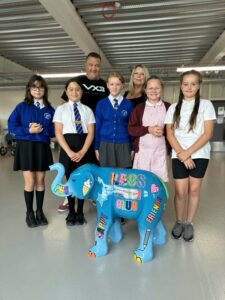 KAOS Youth Club in Rochford joined the herd to raise money for their local charity and be part of the wider community. Members of the youth club came up with the design following a competition, with the chosen design showing what happens at the youth club and what they believe in. All the children got involved and enjoyed painting and naming their baby elephant 'Zuko'. Following the trail the baby elephant will be donated to Southend University Hospital Neptune ward for children.
Darren Parsons says, "The children can't wait for all of the elephants to be out on the trail and for everyone to discover 'Zuko'."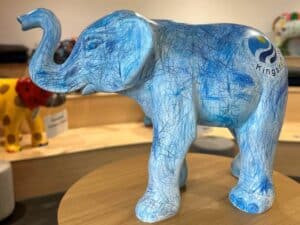 Kingsdown School in Southend-on-Sea provides specialist education to children aged 4 to 14 with severe learning difficulties and profound and multiple learning difficulties. Many of the pupils at the school and their families benefit from the high-quality support and care provided by Little Havens, the only children's hospice in Essex.
Every pupil has contributed to their elephant, 'Kingsley', with a blue mark representing each pupil's voice and an expression of their individuality.
Deputy Headteacher Lisa Stroud says, "Being a part of Herd in the City has enabled our pupils and their families to give something back to this remarkable place and those they consider their extended family. We are so proud of our pupils' achievement and can't wait to see 'Kingsley' standing proud too!"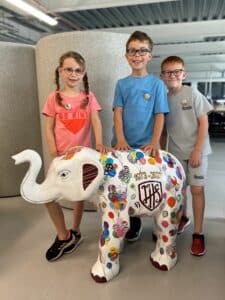 Jotmans Hall Primary School in Benfleet felt Herd In The City was the perfect choice to unite the whole school in a community project for the school's 50th anniversary. The children were eager to include their school colours and balloons to signify birthday celebrations. The design also includes the school mascot, 'ERIC the Owl', which helps them to remember their school values of effort, respect, independence and communication.
Gemma Hindes, SEND Coordinator at the school, says, "The children enjoyed working together during each part of the project and loved the final unveiling of the elephant and its name, 'Rainbow', in a special assembly."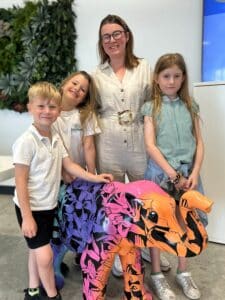 Rie's Playhouse is an Ofsted registered childminder in Eastwood with a Level 3 British Sign Language qualification. Owner, Marie Smale, was inspired to get involved after enjoying the charity's previous trail, Hares About Town. The fun and eye-catching design of baby elephant, 'Signbow', named by Coral Simmons, features the full British Sign Language alphabet, representing the vibrancy of sign language – a rainbow of signs.
Marie says, "The elephant is bright, busy and full of hand shapes – just like a conversation in sign language.
"I hope that 'Signbow' helps to raise awareness and support of our local deaf community and inspire people to consider learning British Sign Language."
Once the trail goes live, trail-goers can purchase a map from any Havens Hospices charity shop and other venues, including the Pier Information Centre, The Forum and Herd HQ at The Royals Shopping Centre. There will also be a 'Herd In The City' app, which can be downloaded from the App Store or Google Play.
Lauren Eagle-Allen, Learning Programme Lead at Havens Hospices, says, "The Learning programme is a really important part of the art trail, giving those who take part the flexibility to develop new creative skills and experience new ways of learning.
"We can't wait for the mini herd to be out on the trail and for everyone to discover the beautifully designed baby elephants."
Havens Hospices provides specialist care and support for people of all ages who are living with incurable conditions and their families. This care and support includes everyone, extending to partners, family and friends to make sure the right support is there for patients and the people who matter to them, where and when they need it.
This care is provided absolutely free of charge and is only made possible thanks to donations and fundraising initiatives such as Herd In The City.
Contact us