After packing their trunks and heading to their forever homes, the Herd In The City elephants are starting to settle into their new habitats.
Herd In The City saw a parade of 46 super-sized elephant sculptures across Southend-on-Sea, Leigh-on-Sea and Shoeburyness, turning the city into an outdoor art gallery over the summer.
The art trail raised a mammoth £580,000 for Havens Hospices, which provides specialist care and support for local people of all ages who are living with incurable conditions so they can make every day of their life count.
Some of the new owners of the individually designed elephants have been sharing where they are now, including Havens Hospices' very own Associate Head of Community Development, Sherry Eaglestone, who bought 'Learning to Fly'.
Sherry, a senior nurse for the charity, says, "I love everything about 'Learning to Fly'. He is stunning and makes me smile every time I look at him. My Grandad was in the Air Force, so I also feel like I have a bit of him in my garden.
"Maverick, as he is now called, lives in my garden and is definitely a talking piece. Everyone who has seen him in his new home has stopped and commented and has visited specifically to see him in place – I swear most of them think I have made it up!
"I loved that the trail brought people together to talk about art and not forgetting why Havens Hospices exists and how we care for people within our community.
"Herd In The City has allowed something fun to deliver a more impactful message to the local community we support. We never forget the amazing people we are lucky to care for."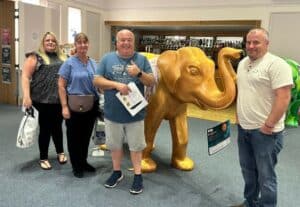 Ultimate Bathrooms, a small family-run company in Westcliff-on-Sea, bought 'Selfie-phant'. Stacey, head designer at the company, says, "We love the colours and design of 'Selfie-phant'. He lives with me at home now, and people love him – it brings them so much joy.
"We really enjoyed following the trail and searching for them all. It was important for us to support Havens Hospices because of all the fantastic work they do – they are one of a kind, so if we can help even a little bit, that's all that matters to us."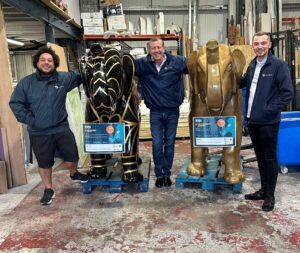 The 'Lost Golden Elephant' and 'Elovephant' were bought by Talis Projects in Wickford, who were also the sponsors of 'Elovephant'.
Matt Butcher, director of the company, which supplies a wide range of office furniture and interiors, says, "We got involved because we wanted to help an incredible cause. Havens Hospices are quite simply amazing in the toughest of circumstances.
"We loved the design of these two elephants in particular, and they make people smile.
"Being part of Herd In The City was a great chance to network with other business colleagues and take part in an event that got the whole town talking and really buzzing."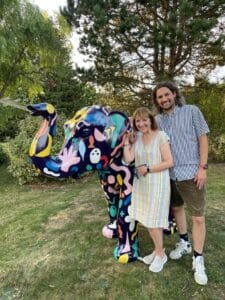 Teresa Cass from Hockley secured the winning bid on 'Keith', an elephant designed by her son, Peter Cass, inspired by her husband, who died from a rare form of blood cancer.
Asked why she bid on the elephant, Teresa says, "How could I not? It's called Keith and is a tribute to the love we have for him. The elephant lives in my garden now, and I see it every time I look out of my kitchen window.
"I like that the design and all the symbols represent the joy of Keith and that our extended family all participated in a small way in the painting of the elephant.
"People love the design and try to work out how each symbol fits with Keith. It makes them feel connected with Keith as a person."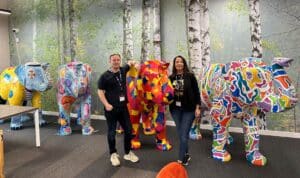 AJ Chambers in Rochford, who provides specialist recruitment, mergers and acquisitions services, got quadruple the ele-fun when they bought four elephants, 'Duke', 'Jelly-phant', 'Where the Heart Is' and 'Captain Jumbo'.
When asked why they decided to bid in the elephants, Andrew Hilliard, Founder of AJ Chambers, says, "Easy – because they are amazing sculptures for an amazing cause which directly affects the lives of people in our community.
"We like each one for different reasons. Overall, we loved the originality and striking aesthetics of them all. The herd are all in our office space and recreational areas, bringing energy and fun to our colleagues and visitors.
"We really enjoyed the thrill of the auction and hearing from all the participants and the supporters. The hosts were great fun, too!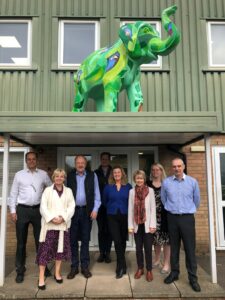 Barlow Tyrie, a specialist manufacturer of teak wood outdoor furniture, successfully secured the winning bid on their sponsored elephant, 'E-leaf-phant'.
Peter Tyrie, a company director, says, "We decided to bid to support Little Havens and find a permanent home for the elephant we sponsored. We have supported Little Havens for quite a few years and believe they do important work in our community and are very worthy of our help.
"Our elephant now looks out on the world from above our office entrance. It greets every visitor and can be seen by every passerby on the Springwood Industrial Estate.
"People appreciate the imaginative position and use of the elephant, which gives an opportunity to mention Little Havens and the sponsorship."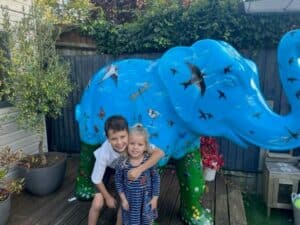 Kat Smith, from Southend, is one of the buyers who has given one of the majestic elephants of Herd In The City a forever home.
She says, "We are always looking for new ways to support Havens Hospices after the loving care they provided to my Dad, Ray, back in 2021.
"My Dad was cared for when Hares About Town was out, but we didn't have time to find them all or get involved as we spent our final weeks in and out of the hospice. As soon as I heard about the Herd In The City trail, my son Dylan and I knew we could help and got involved by volunteering."
"I went to the auction with my mum, Jane and sister, Laura, and I'm not sure how it happened, but something forced my hand up, and next thing I know, we have a new addition to the family…one that's 8 foot long and weighs 40kg!
"Summer Meadow is such a beautiful elephant – my children Dylan and Emmie love her. My little girl goes out every day to check on her, which is very cute."
The care provided by the local charity is free of charge and only made possible thanks to donations and fundraising initiatives such as Herd In The City.
Vanessa Harvey, Project Manager of Herd In The City at Havens Hospices, said, "The money raised for Havens Hospices by Herd In The City is staggering and helping us continue to provide specialist care and support to more local people of all ages who need us.
"Each uniquely designed elephant leaves a lasting legacy of the art trail, and we're so thankful to the new owners for helping us raise vital funds for those that deserve the best possible care."
Find out more about how to support Havens Hospices.
Contact us