Lisa Walker, 43, from Leigh-on-Sea, and Sue Leonard, 69, leaped thousands of feet out of a plane on Saturday 9th September for the local hospice charity that cared for Lisa's mother and Sue's best friend Margaret Martin.
Mother of three children and Grandmother of seven grandchildren, Margaret, 68, was diagnosed with Stage 4 Bowel Cancer in May 2022 which had already spread to her liver and lymphatic systems. This was a huge shock to her and all her family and friends as she was extremely fit and well up until her diagnosis, going to the gym and leading a very active lifestyle.
After initially, being referred to Fair Havens for symptom control, Margaret's condition sadly deteriorated rapidly, and she chose to stay at the hospice for care at the end of her life. In August 2022, she was cared for at Fair Havens for three weeks until she died on 9th September 2022.
After learning that Havens Hospices is a charity that relies heavily on donations, Lisa wanted to do something to give back to the charity which she will 'forever be thankful for'.
Lisa said: "I will forever be thankful to Havens Hospices for the outstanding care they gave my mum in her final weeks and the support they offered my sisters and dad.  Her care was absolutely faultless – the staff were all amazing from the minute we walked through the door, nothing was too much trouble.  Mum was given everything she needed 24/7, above and beyond nursing.
"The new hospice is peaceful, beautiful, bright, airy, spotlessly clean and you can tell absolutely nothing was overseen in its design.  They offered me and my family so much comfort in knowing that she was comfortable and safe. She chose not to return home because she felt safe, even though she loved her home. Nurses would describe Mum's home as something of the 'ideal show home', she struggled with the concept of adapting it for her care needs. Because she was selfless and put everyone else first we all knew that her decision to stay at the hospice was to minimise the burden and pain on us as a family."
By her own admission, a skydive challenge was completely out of Lisa's comfort zone so it was a real challenge for her. She usually would opt out of anything she feels is 'scary' including theme-park rides and water shoots, with her mother struggling to get her to go on any when she was younger. Despite this, she wanted to take on challenge so started to look at options.
She said: "After previously taking part in half marathons and completing the London Marathon, I really wanted to do something different to raise money for Havens Hospices. It just so happened that Havens Hospices was advertising a skydive fundraiser on the 9th September 2023, the same date my mum passed and what would be the first anniversary. After messaging my family and Sue, Sue jumped at the chance to do it with me and my family was really supportive and agreed to come and cheer me on the day in memory of Mum."
"In the lead-up to the event, I was actually pretty calm. I am an extremely busy wife and mum of young children, and a Physiotherapist, so I am too busy to get much thinking time! On the day I woke up feeling a little nervous, but Sue picked me up, calm as a cucumber, and the journey flew by chatting about Mum and memories. We were then met by my husband, children, sisters, Dad and friends, who were all in amazement at how relaxed we both were!"
She continued: "The skydive was one of the scariest things I have ever faced, but once I was out of the plane it was amazing. We were told we did a 45-second freefall at 130mph; it was exhilarating.  I am proud to have jumped, and extremely thankful to all of those who have donated to help others receive care from the amazing place that is Fair Havens."
Together, Lisa and Sue have raised more than £2,000 in sponsorship for the charity which provides specialist care and support to adults, young people, and children living with incurable conditions across Essex. To make a donation in support of Lisa and Sue, please visit www.justgiving.com/page/susan-leonard-1687980640651
If you have been inspired by Lisa and Sue to take a fundraising challenge in aid of Havens Hospices, please email SMay@havenshospices.org.uk for more details about upcoming events or visit www.havenshospices.org.uk/events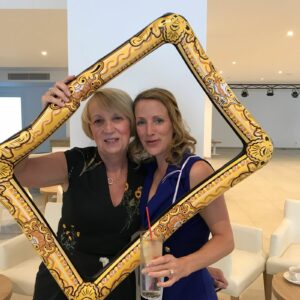 Photo: Margaret and Lisa 
Published 15th September 2023
Contact us