Little Havens in Benfleet, the children's hospice for Essex, is looking for 'green-fingered' volunteers from the business community to help keep their six acres of beautiful meadowland tidy and well-maintained for the families they care for.
The local charity, which provides care and support to children, young people, and their families across Essex living with complex or incurable conditions, is asking businesses to lend a helping hand as part of the hospice's 'Corporate Volunteering' days.
The green space at Little Havens is integral to the children's and young people's hospice, offering a welcoming and relaxing environment for patients, families, visitors, staff and volunteers. It includes accessible play equipment and sensory areas set in beautiful gardens, creating a safe space for the children to play, be completely themselves and enjoy their life to the fullest.
Corporate volunteering is the perfect opportunity for businesses to get involved in the local community and offer staff the benefit of making a positive and active contribution to the charity. It's also a great team-building exercise and a chance to meet company-wide corporate social responsibility aims (CSR).
The Corporate Volunteering programme takes place from March until the end of November, and groups of up to 10 volunteers at a time are welcome. Groups can participate in gardening, as well as maintenance and DIY at the hospice, helping maintain the lovely environment for those the charity cares for.
Duties include weeding, planting, pruning, tidying, watering plants and vegetable patches, and maintaining the gardens and paths.
Last year, the Private Client Team from Birketts, a widely regarded top-tier law firm in Chelmsford, spent the day carrying out maintenance on the grounds of Little Havens for their CSR day. The team painted fences around the hospice to protect the wood for the next winter and cleared leaves to be stored and used as compost – helping to keep the grounds safe and clear for the children and to allow the beautiful flowers to grow in the spring and summer.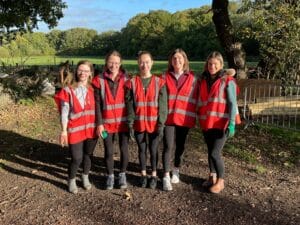 Charlotte Wilkins, Internal Communications Manager for Birkett's, says, "The day was great for building team relationships and also offered a nice bit of physical exercise, although many of us were feeling the aches the next day!"
Victoria Stock, lead for Corporate Volunteering at Havens Hospices, says, "Corporate Volunteering is an excellent way for businesses to get involved with the community they operate in and help make every day count for the children and families we care for.
"There aren't many places that have inclusive equipment and accessible gardens which allow families to get outside, have fun and spend quality time together – so it's really important that we upkeep the gardens."
Alyssa, 12, is cared for by Little Havens. Her mum Lynette describes how the hospice's gardens and play equipment bring Alyssa and her brother Ethan so much joy.
"We love going to Little Havens. Now that Alyssa is older and bigger, it is so much harder to find play equipment suitable for Alyssa in our local area, but in the gardens at Little Havens, there is lots of play equipment that is wheelchair accessible.
"To be able to go somewhere that has the equipment that Alyssa can use and play along with her brother is amazing."
Book your 'Corporate Volunteering' day at Little Havens or find out more by calling 01702 220 307.
Published 30th March 2023
Contact us