An Essex-based hospice has joined forces with nine other local and national charities to form the UK's first-ever pre-loved department store.  
Charity Super.Mkt is a four-week pop-up store housed in the former Topshop in Brent Cross, London. Havens Hospices was one of the charities chosen to be part of this flagship initiative. The ground-breaking concept is the brainchild of Wayne Hemingway, founder of British fashion brand Red or Dead and Hemingway Design, and Maria Chenoweth, CEO of sustainable clothing charity TRAID. 
Havens Hospices is displaying hand-selected, donated items to entice customers looking to shop more ethically and sustainably to create unique styles. Alongside the second-hand items, the charity has an array of brand-new designer items such as Canada Goose, Kenzo, Vivienne Westwood, Never Fully Dressed and Moncler. 
Jackie May is an Area Manager for Havens Hospices. She says, "It's a privilege to be part of such an innovative charity retail collaboration. More people than ever are choosing to shop second-hand, offering a more affordable approach to fashion and reducing the impact on our planet. 
"Charity Super.Mkt is trading alongside big retailers in Brent Cross, so we're meeting customers passing by and enticed by the vast array of choices and diversity in our clothing and accessories. Even better, every pound spent supports families across Essex living with complex or incurable illnesses with hospice care when and where they need it." 
 Amy Lorenz is a charity chop blogger from Billericay. She hosted an Instagram 'takeover' of the Havens Hospices Shops channel on Saturday 28th January to showcase and style the items available. She says, "It was such an amazing experience. There were so many designer and unique items. For people who love charity shopping, Charity Super.Mkt is a must."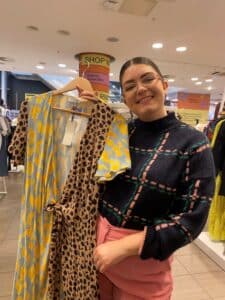 With 60% of people now wearing something second-hand and 80% of those second-hand purchases bought through charity shops (source: 'ThredUp Resale Report 2022'), Wayne Hemingway says, "Charity shops are no longer a signal of decline in our town centres; they represent a powerful and positive movement towards the circular economy and a future that is being wholeheartedly embraced by consumers and contributes hundreds of millions of pounds to our economy, and good causes." 
 Havens Hospices will be at Charity Super.Mkt till 25th February alongside Age UK, All Aboard, Barnardo's, Cancer Research, Emmaus, SCT, Marie Curie, TRAID, and Shelter. Open Monday-Saturday 10am-8pm, and 12pm-6pm on Sundays. Customers are encouraged to donate a pre-loved item in-store. 
Contact us