Christine, known as Chrissie, lived in Leigh with her husband David. She fell ill on holiday in May 2019 and was taken to A&E as soon as they arrived home. Chrissie was admitted straight away and transferred from Southend Hospital to London Hospital in Whitechapel. 
David, 76, says, "Whilst removing gallstones, they found cancer on the pancreas. Chrissie worked at Southend Hospital as a receptionist on the front desk in the X-ray department for over 30 years, so she knew exactly what this meant. It was very difficult to deal with." 
Chrissie's first round of chemotherapy went well and there was a break in March, just as the pandemic started. David says, "During those three months of lockdown, Chrissie got her appetite back and wasn't dealing with any adverse side effects of treatment. We had a lovely time and I have treasured memories of that."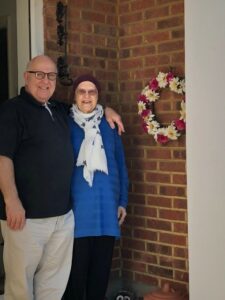 When Chrissie returned to chemotherapy in August, she didn't respond well and her condition declined. Her Palliative Care Nurse stepped in. David continues, "Sherry from the Community Palliative Care Team arrived one morning and sorted everything out. She arranged a specialist bed and organised for Fair Havens Hospice at Home to visit the following day.  
"The carers from Fair Havens not only made her comfortable, but Chrissie enjoyed their company. Even though we were dealing with a serious situation, they could still be light-hearted and make us laugh. It was a form of moral support. 
"They looked after us as well as Chrissie. The team gave us confidence that we were dealing with the situation OK and answered any questions we had." 
Chrissie died at home on 4th September 2020, aged 73. 
"Myself, her two daughters and son in law were there when Chrissie died. Sherry and the community team, along with Fair Havens Hospice at Home, were tremendous. They worked together to ensure we had everything we needed to care for Chrissie at home. 
"At the funeral, we asked for donations to Fair Havens, raising more than £4,000 which shows how much Chrissie was loved.  
"Whilst Fair Havens Hospice at Home only supported us for four days towards the end of Chrissie's life, the support they gave us was magnificent. It was comforting to know they were there." 
To find out more about how you or someone you know would benefit from the care at Fair Havens, click here.
If you would like to donate to Fair Havens please click here.
Published in 2022