A patient's wish to get married has been granted by a local hospice, which arranged the service in just 24 hours.
67 year old Charles Hobbs – known as Chas – has Cirrhosis and was admitted to Fair Havens in Prittlewell on 15th September. Having been with his partner, Shirley Reason, for 13 years, they decided to get married before Chas' condition worsened.
Chas was diagnosed with the condition a couple of years ago. Surviving a major operation 18 months ago, his condition has been steady but deteriorated in the last month whilst shielding at home during lockdown.
Shirley, 73 from Rayleigh, says, "We had been coping well at home, but eventually the 24 hour care became too much for me. I'd heard of Fair Havens before. My friend's husband was cared for at the hospice when it was in Westcliff, and she recommended I reach out and ask for help.
"After getting a referral from the doctor, Fair Havens called the next day to say there was a room available.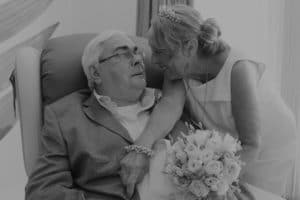 "It was only very recently that we decided to get married, but I knew I couldn't take on those arrangements myself. So the Spiritual Care Lead Martin Hill liaised with my daughter to make the preparations within 24 hours.
"Staff have gone beyond any expectation you could imagine. You can tell they thoroughly enjoy working here and they've given up their own time to help us prepare for our wedding day. The team have pampered me, styled my hair, decorated the private garden outside Chas' room and made a cake decorated with butterflies."
The ceremony took place on Thursday 17th September in the family lounge within the hospice. It is the first wedding that has taken place at the new facility, which opened in March.
Chas' twin brother, Phil Hobbs was a witness, alongside Martin, who says, "Everybody pulled together to arrange this celebration. When I was approached by Shirley's daughter to organise the wedding, of course I said yes straight away, and then worked out how we could do it.
"It was an absolute team effort and the cooperation from Southend Registry Office was exceptional. When people realise that this is the wish of someone approaching the end of their life, it's so important to get it right."
Julie Stott-Skold is the Healthcare Assistant Line Manager at Fair Havens. She says, "We found out the day before that the wedding was definitely going to take place. I messaged Nic Davis and Johann Tighe, the HCA's who would be on duty, even though it was their day off. Between them, they made a banner, confetti and brought in hair styling equipment. One of them even loaned their own tiara and bangle for Shirley to wear.
"We made a special 'wedding breakfast' for Chas and Shirley, and then pampered the bride-to-be as we got Chas into his suit. We even created a make-shift garter from a catheter strap and a knitted heart!"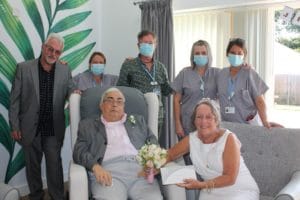 Julie continues, "This is what makes hospice care special. The time they have together is precious, so it was important to make their wedding day as special as possible. There wasn't a dry eye in the room."
Shirley and Chas were introduced through mutual friends. Shirley – who describes Chas as her 'best friend' – has two daughters from a previous marriage, whereas for Chas, this is his first wedding.
"We were absolutely astonished by the hospice. The care, his room, everything. It's like a five star hotel. It's not morbid here, it's relaxing for both the patient and their family which is so important. We've had so many trips back and forth to hospitals, so this is completely different.
"I'm as guilty as many people in thinking that hospice care must mean the end, but it doesn't. It's respite for the family, until they need to deal with the next stage. We can't praise this place enough.
"We've already been talking about Christmas, and I've said that I'm not sending cards and donating to Fair Havens. If people want to buy a present, please give to the hospice instead."
Fair Havens is part of Havens Hospices. It provides palliative and supportive care both within the hospice and in the community completely free of charge, which can only happen thanks to the support and generosity of the local community.
Published 21st September 2020
Contact us