The finale took place at The Boundary at Garons Park on 28th September, marking the end of the exciting arts event that hopped across Southend all summer.
No one could have failed to notice the bright and impressive Hare sculptures that popped up around Southend's iconic spaces, but a nail-biting charity auction saw businesses and members of the public bid, barter and haggle in a desperate attempt to be the proud owner of one of these unique and historical works of art.
The turn-out was tremendous; proving just how coveted the sculptures have become. Each unique design leaves a lasting legacy in the town and the lucky new owners were thrilled to know that not only do they own an important part of the town's history, but that they have helped raise vital funds for Havens Hospices.
The evening was a fantastic finale to the ten-week trail that saw tourists and locals flock to Southend to hunt down the stunning and unique works of art.
This spectacular event was hosted by Havens Hospices Patron Su Harrison, with Charlie Langhorne, co-founder of Wild in Art, taking on the role of auctioneer. They were joined by nurses from Fair Havens, really bringing home the importance of this project and its connection to the charity.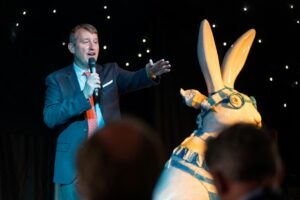 One by one, Hares such as Larry, Mr Meadow and Hoptimus Prime were all snatched up by keen new owners to brighten dreary offices, add sparkle to a garden or sit proudly in a public space. The bidding on the original Hare, Leporum Fisher, was a particularly poignant moment as artist Paul Karslake sadly died in March 2020 before the trail was launched. Leporum Fisher as a joint room fundraiser reached an incredible £20,481. 15 individuals stood up to bid £1,000 each plus the crowd funder made this the highest winning lot in the auction.
Sandra Karslake, wife of the late Paul Karslake, spoke emotionally of Paul's involvement and connection to Havens Hospices and said just how proud he would have been seeing that Leporum would now reside at Fair Havens as a forever home. Unbeknown to many, Paul was actually commissioned to create a piece of art for the new hospice in Prittlewell. Last night, dozens of people made pledges – supported by the crowdfunding campaign – to ensure this happened.
Second highest winning sculpture was Jet Hare-Plane – sponsored by Quality Street Property Agents – who also owns Gateway Property Management. The sculpture was successfully won by them with an outstanding bold bid of £15,000, outbidding and striking the 'online' bidders off by £5,000 to secure.
Tony Dean – owner of both companies said, "This is such a fantastic cause and we just loved our involvement in Hares About Town for Havens Hospices. Both of our sculptures in the trail were fantastic– but Jet Hare-Plane by Dinky Doors was just outstanding – we will proudly be positioning him by the entrance to our offices-  a huge well done to everyone involved on the night and throughout this mammoth project for Southend on Sea and Havens Hospices."
Larry – designed by Lawrence Llewyn Bowen and created by local artists Andy Downes and Bronwyn Oldham – were blown away by the astonishing £12,000 bid that went to a private bidder.
Spectators and bidders alike were dazzled by the sculptures and by the atmosphere. Louise Gloyne, Head of Philanthropy, Grants and Partnerships at Havens Hospices said, "The atmosphere was electric! You could really sense the anticipation as each Hare was introduced. To own such a stunning piece is incredibly exciting and emotions were certainly running high. The money raised for Havens Hospices is staggering. We are delighted by the way people have thrown their support behind the trail and the auction. We are simply overwhelmed.
"Every pound donated really is appreciated by everyone at Havens Hospices. Our income was affected through the pandemic, but our free, specialist care continued. The money raised from Hares About Town helps us start to recover, securing the future of hospice care for our community."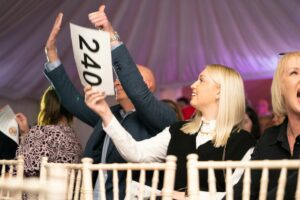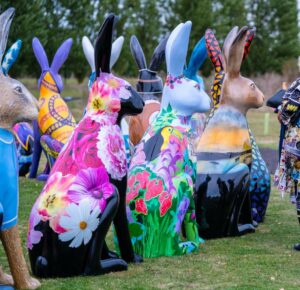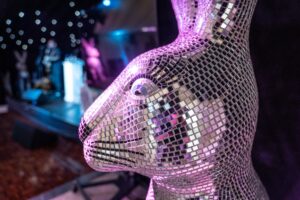 Published 30th September 2021
Contact us