Havens Hospices provides specialist care and support for people of all ages living with incurable conditions and their families, so they can get the most from life and continue to make every day count.
One of the things our patients and families enjoy is the beautiful gardens that surround our hospices at Fair Havens and Little Havens.
We're very lucky to have a team of garden volunteers who tend to our gardens, so they continue to be well-maintained and offer a welcoming and relaxing environment for patients, families, visitors, staff and volunteers.
Some of the duties the Garden Club Volunteers help undertake include weeding, planting, pruning, tidying, watering plants and the vegetable patch, and keeping the gardens and paths tidy.
Read the inspiring stories of some of our gardening volunteers below or find out more about the volunteering garden club and how to get involved.
Clifford Churchill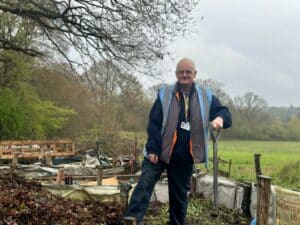 Clifford Churchill, 69, from Rayleigh, volunteers at Little Havens in Benfleet, the children's hospice for children and young people in Essex, helping in the beautiful gardens surrounding the hospice.
He has volunteered at the charity for the last four years after retiring from his job at the New Holland tractor plant in Basildon.
Cliff decided to volunteer for the charity that supported his wife, Helen, after her kidney cancer diagnosis in 2001. She attended its day care centre at Fair Havens in Chalkwell before being cared for at the end of her life in 2011.
He says, "When my wife was at Fair Havens, everyone was so kind to me – they really put me at ease. They even supported my wife in organising for me to receive bereavement counselling after she died. She was looking out for me right till the end, she was always there for me."
Cliff's main job at Little Havens is managing the many compost heaps, which help to maintain the beautifully landscaped gardens, along with looking after the railway garden and other jobs that may be needed. His favourite flowers are roses because they remind him of his wife.
"I love gardening, so volunteering for Havens Hospices gives me a chance to give back for the care and support they showed my wife and me and do something I enjoy.
"Gardening is great for your mental health. It allows you to reflect and forget whatever is happening in your life."
Asked whether he would recommend volunteering to others, he says, "I'd recommend volunteering to everyone. It's great to keep busy and get out and do something. I've made great friends at the volunteers' garden club – we all get on well."
Along with volunteering, Cliff helps fundraise for the charity, completing the Havens to Havens memory walk every year.
Paul Samways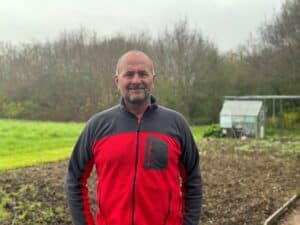 Paul Samways, 56, from Benfleet, has volunteered for Havens Hospices for nearly two years.
Helping out in the charity's children's hospice, Paul volunteers in the beautiful gardens surrounding Little Havens, the only hospice for children and young people in Essex.
A former firefighter and semi-retired window cleaner, Paul moved from Ascot to Benfleet and felt it was meant to be when he discovered the children's hospice.
He explains, "My son Archie was diagnosed with Menkes syndrome and died at a children's hospice in 2000 when he was 14 months old. When we moved here, and I learned about Little Havens, it felt like fate."
On a typical day, Paul works with fellow volunteers Doug and Neil on the allotments growing food such as onions, carrots, potatoes, and lettuce for the hospice to use in its kitchen, helping to feed the patients, families and colleagues at the hospice.
"I don't actually know anything about gardening, but I work with a good group of people who are happy to share their knowledge and experience, which means I am picking up some skills now!"
Asked why he volunteers, he says, "Volunteering is a great way to give back to the local community. You feel like you're making a positive impact, giving you a sense of achievement.
"We all have a similar mindset, so get on well and have a laugh while we are giving something back."
Douglas Barnes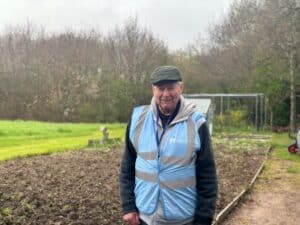 Douglas Barnes, 94, from Benfleet, is a retired British Rail Plant Manager Assistant who has volunteered at Little Havens, the children's hospice for Essex, for eight years.
Lending a helping hand with the allotments, Doug even grows plants at home to be planted in the gardens.
He says, "My wife died ten years ago at Fair Havens, and after some time, my daughter told me that I should get out and start doing things. I decided to volunteer and chose gardening as it's something I like doing."
Having had an allotment for many years, Doug has a wealth of experience and shares his knowledge and love for gardening with the rest of the Garden Club volunteers.
"There are a lot of seasonal jobs on an allotment, so there are always things to do. We plant several things throughout the year, including onions, cabbage, potatoes, and runner beans, all used by the hospice kitchen – nothing is wasted."
Asked why he volunteers for the charity, Doug says, "I live alone, so it's nice to get out and enjoy time with other people."
Neil Oakley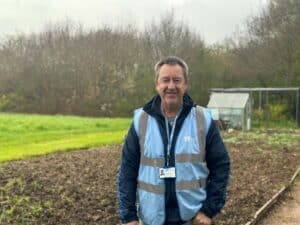 Neil Oakley, 60, from Rayleigh, volunteers in the six acres of beautiful meadowland surrounding Little Havens in Benfleet, which supports children and young people with life-limiting and complex illnesses in Essex.
The green space at Little Havens is integral to the children and young people that use its services, offering a welcoming and relaxing environment for patients, families, visitors, staff and volunteers. It includes accessible play equipment and sensory areas set in picturesque gardens, creating a safe space for the children to play, be completely themselves and enjoy their life to the fullest.
Neil worked in insurance for 33 years before his circumstances changed. He had always enjoyed gardening, so when the opportunity came up to work as a domestic gardener, he jumped at the chance.
Unfortunately, Neil was diagnosed with bowel cancer four years ago, so he took a break from work. Luckily, they caught the cancer early, and after successful treatment, he got the news he was hoping to hear – he got the all-clear. Neil returned to work, but his outlook on life changed, so in 2021, he retired.
His wife, Laura, worked as a receptionist at Fair Havens in Prittlewell, so he decided to volunteer for the hospice charity and combine his love for gardening and being out in the open air.
On a typical day, he works mainly on the allotment but also helps in other areas of the garden and cutting the grass.
Asked how volunteering makes him feel, Neil says, "I feel proud. When you see projects you've worked on finished, it gives you a great sense of achievement – you feel like you are doing something good.
"I enjoy everything about volunteering – it's a great way to give back to your local community. I like to keep busy and active, always out and about, so it's perfect for me."
Contact us