40-year-old Daniel Dublin completed the 42km race which is considered to be one of the toughest races in the world after trekking Everest's base camp for 14 days prior.
The famous mountain marathon starts at 5,364 metres above sea level. Daniel navigated his way down through the Sherpa trails of the Khumba Valley, dodging yaks and making his way up the narrow paths, battling between fatigue and low oxygen levels.
Prior to this, he trekked 14 days from Lukla airport, which is considered to be one of the most dangerous airports to land on as the runway sits on a mountain. He said: "I encountered all kinds of extreme weather conditions; from crazy heat to spending two nights camping next to the Khumbu icefall at Everest Base Camp with temperature around minus 15 degrees.
"I had to overcome altitude sickness on two occasions, climbing up and down treacherous terrain and conditions, all before the Everest Marathon had even begun!"
Despite the extreme conditions, Dan says that completing the challenges was an amazing and positive experience. He continues: "The altitude sickness and challenges I went through, reaching Everest Base Camp and completing the toughest marathon of my life, has been life-changing, and one I'll never ever forget. I am so honoured that I got the chance to experience a once-in-a-lifetime opportunity, the Nepalese culture and to meet so many amazing people who were just full of love.
"Many people have a life-long goal to go to Everest Base Camp, to see for themselves the natural beauty of the landscape and know what it truly feels like to tread in the footsteps of the early adventurers like Tenzing Norgay and Sir Edmund Hillary. For others, it's the lure of the unknown making the impossible possible and the challenge of finding how they will cope with the ever-changing elements and the altitude. Then there are people who are drawn to the event as a means of making a real difference by fundraising for charities close to their heart, incredible causes like Little Havens."
Daniel is a keen and long-standing supporter of Little Havens. Since 2015 he's participated in over 20 events to raise money for the hospice which cares for children and young people living with complex or incurable conditions across Essex, and supports their families.
In 2019 he completed the London Marathon raising hundreds of pounds two weeks after walking on hot smouldering coals as part of his fundraising. He said: "Walking on hot coals and running the London Marathon two weeks later was another life-changing and unforgettable experience I'll never forget. Considering I hated running back in school, how I overcame and transformed my life through fitness and on a mental approach; it's a proud feeling looking back at how far I've truly come."
This year's fundraising challenges were more poignant for Daniel. In January 2022, sadly and unexpectedly Daniel lost his father at the age of 60 to Covid-19, so Daniel was also running in memory of his father who he calls 'his biggest supporter'.
He said: "As you can imagine, this loss was devastating, but he was my biggest supporter in all of the fundraising events I competed in. This thought alone gave me the strength and determination to complete the Everest Marathon. So for me personally, the trek and Marathon was dedicated to the memory of my father and 90 other loved ones through 'Miles in Memory' – I wore all their names on the back of my t-shirt during my marathon."
After raising £1,700 so far for the children's hospice since 2015, Daniel said: "I chose to raise vital funds for Little Havens because I wanted to make a real difference in the lives of those who access the incredible and necessary service that they provide. I wanted to try and raise as much money as possible and to raise awareness for the fantastic work all the staff and volunteers do on a daily basis – they truly make every moment count."
Little Havens is a part of Havens Hospices which relies on the support and generosity of the community to provide its specialist hospice care free of charge to families across Essex.
If you would like to take on a challenge of a lifetime in aid of Havens Hospices, visit www.havenshospices.org.uk/events
Published 20th July 2022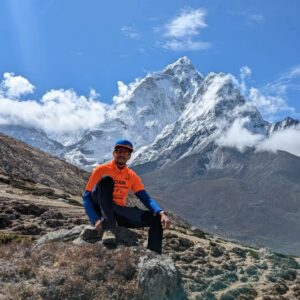 Contact us