Abbi Ranger, 30, is a Nursing Assistant for Fair Havens Hospice at Home. Along with her dad Paul, mum Lisa, husband Jack, Auntie Caroline and Uncle Chris, she will be walking 11 miles on a route from Little Havens in Thundersley to Fair Havens in Southend and back as part of the charity's Havens to Havens Walk event on Sunday 18th September.
The family is walking to remember Barry Brace, Abbi's Grandad, who died at the age of 76 after being diagnosed with bowel cancer in 2020. When the cancer spread to his lymph nodes, Barry was cared for in his home by the Fair Havens Hospice at Home team during the last few days of his life.
Abbi was so inspired by the care her Granddad received in his final days, she applied for a job as a Nursing Assistant in the same team a year later.
She said: "The care my grandad received towards the end of his life was exceptional. Because of Havens Hospices, Grandad was able to live his last days in the comfort of the home he loved, overlooking the River Crouch in Hullbridge. The Care Team made sure that happened for him, making him as comfortable as possible, surrounded by the love of his family.
"Now I work for the hospice, I am able to bring comfort to other families who have been told there is no cure for their loved one's illness and help them make the most of the special time they have left together. People think what I do for a job is all 'doom and gloom' but it's not. There are laughs and smiles with our patients and they thank us for that."
Abbi is looking forward to spending what will be a special day with her family at the Havens to Havens memory walk. She continues, "Myself and my family are really looking forward to being together, walking to remember Grandad and celebrate his life. It's going to be wonderful to share this with other families too, who have also experienced the special care of Havens Hospices. We hope to raise as much money as we possibly can so I can help more families like ours in the future."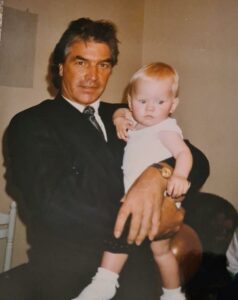 Not only will Abbi be donning her signature pink coloured hair as a tribute to her Grandad Barry, she will also be joined by another companion on the walk, a cuddly toy badger. The toy badger has significant meaning to the family, particularly Abbi's children who – after their Great-Grandad died – received a badger toy from their school to help them cope with their grief. Since then, the animal has reminded them and the rest of the family of Barry and has a special place in their hearts.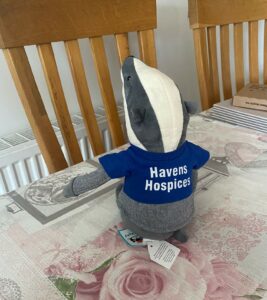 The charity's 14th Havens to Havens Walk – sponsored by Grange Green Dental Practice, Start Smiling and S. Stibbards & Sons – will see families and friends come together in honour of loved ones to fundraise for its specialist palliative nursing and supportive care.
The fundraiser starts at Little Havens in Thundersley, taking walkers on a five-and-a-half-mile route passing through Belfairs Woods, along the Prittle Brook Greenway, then on to Fair Havens in Southend where supporters can enjoy a well-deserved rest, entertainment and refreshments. Walkers then have the choice to either continue by foot back to Little Havens to complete a total of 11 miles, or to take a coach back to the start to pick up their medal.
The event is suitable for all ages and abilities and is great fun for all the family with an activity sheet for younger walkers to complete along the route.
Advance online registration for the walk is £15 per adult with free entry for children 16 years and under. Walkers can sign up on the day for an additional £5 fee. When signing up there is also an option to purchase a Havens Hospices t-shirt for an additional £6 but this is only available in adult sizes and is to be collected on the day.
For more information and to register visit www.havenshospices.org.uk/havenstohavens
Published 2nd September 2022
Contact us