After the cancellation of the Virgin Money London Marathon last year, supporters travelled to London to take on 26.2 miles on Sunday 3rd October 2021 alongside 35,000 other runners to raise vital funds for the charity which provides palliative and supportive care to adults and children across Essex.  So far, 'Team Havens' collectively has raised over £150,000 for the charity.
One of those who crossed the finish line at Sunday's marathon was Havens Hospices supporter Vikki Kenney from Southend. Vikki has set herself an incredible fundraising challenge this year – she has already completed two marathons this summer in support of the charity as well as having another two lined up in October and two more to complete before the end of the year. She said:
"The London Marathon did not disappoint. There were smiles, happy tears and the support – which seemed extra special this year especially from Havens Hospices. I loved seeing them throughout the course which gave me the push I needed. The whole day was just so amazing, even when it rained 800 yards from the end with the sun coming out as I crossed the line. It was a great reminder to why I was running for Havens Hospices, I am so grateful to all those who have donated and supported me on this journey. Next stop Chelmsford Marathon in just under two weeks!"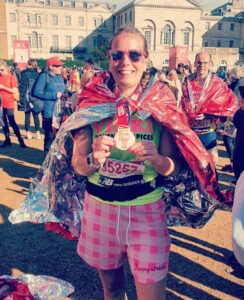 Judy Grocott, Voluntary Income Manager at Havens Hospices said, "Words can't describe how happy we were to be able to travel up to London this year with our incredible team of runners after a two-year delay due to the pandemic. Every year we rely on this income to fund our essential hospice care and even more so this year as we start to recover from the effects the pandemic has had on our fundraising.
"They all trained so hard to prepare for the event and many have been waiting years for this day to come after the 2020 event was cancelled.  Amongst the team were people who have experienced our care first-hand, members of staff, runners who had never run more than 5k when they signed up and some runners who, year on year, take part and continue to fundraise for the charity. We couldn't be prouder of the dedication they have shown to get to the start line."
Havens Hospices is always on the lookout for more runners to join 'Team Havens' and take part in the London Marathon. The ballot is now open to participate in next year's Virgin Money London Marathon.  Visit www.virginmoneylondonmarathon.com to enter.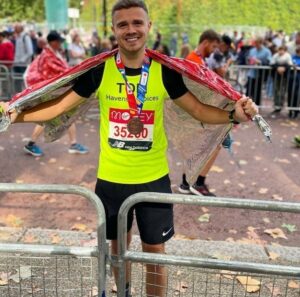 Published 7th October 2021
Contact us