A woman from Grays who organised her own Ascot event at home has raised more than £1,400 for the hospice that cared for her daughter.
Sarah Allison hosted the outside gathering for close friends and family to coincide with the Royal Ascot Races, with afternoon tea and a raffle. Usually, the 42 year old would attend the 'Ascot with a Twist' event organised by Little Havens Hospice, but hasn't happened for two years because of the pandemic.
Little Havens cared for Sarah and her husband Luke's daughter, Febe. She was born in December 2005 with Trisomy 13, a rare genetic condition. The family was referred to the hospice shortly after her diagnosis, where they had many respite breaks. Febe died at the hospice on her first birthday, in 2006.
Sarah says, "It's been such a hard year for charities like Little Havens, but I know families will need their care and support more than ever. Having attended every Ascot with a Twist event, I still wanted to do something to raise money for a place that was there for us and Febe when we needed them the most."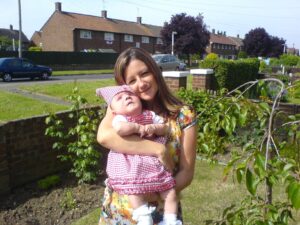 Little Havens is a charity that supports families across Essex who have a child or young person with a complex or incurable condition. It provides care within the hospice in Thundersley, or in the family home. The support is free, but it costs £46,000 each week to offer this specialist, palliative care.
To find out more about Little Havens and how to make a donation or organise and event like Sarah, visit www.havenshospices.org.uk or follow the charity on social media @HavensHospices
Published 5th July 2021
Contact us