Kat Mailley, 34, along with her husband, two children, sisters, brother in laws and nephew will be walking 10 miles on a route from Little Havens in Thundersley to Fair Havens in Prittlewell and back as part of the charity's Havens to Havens Walk event on 5th September.
The family wish to raise vital funds and awareness for the charity after Kat's father Ray Mailley – who is living with lung cancer – was admitted to Fair Havens for the second time recently.
Ray was initially admitted to the hospice in July to get his pain medication under control. The 62 year old was taking a variety of medication prescribed by various consultants which was causing dizziness and hallucinations. The timing was important – Ray had a 'bucket list' event planned for 10th July, a ride on a steam train with his wife Jane. Thanks to the hospice managing his pain and medication, Ray was able to go on the trip.
In early August Ray was admitted again to Fair Havens after his condition deteriorated. With his daughter Lisa's wedding fast approaching, the hospice helped to stabilise Ray's condition to tick another activity off his bucket list – to attend her special day and walk her down the aisle. The Care Team at the hospice helped Ray get ready on the day where he was met by his wife and daughter at the hospice so they could attend the ceremony at the Southend Registry Office together.
Lisa said, "To say that I'm thankful to Havens Hospice for what they have done for not just our Dad but also our Mum, is an understatement.  We as a family will be eternally grateful for everything they have done for Dad. The fact that he got to attend my wedding and that he and my mum were able to escort me to my new husband is something I will cherish for the rest of my life."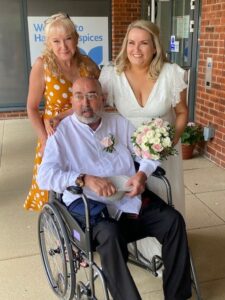 Kat says the family all agreed to participate in Havens to Havens together after the way her parents described how phenomenal the care at Fair Havens was. She said: "We just knew that we needed to do something to support the charity – we have all supported each other throughout the last three years since his diagnosis so this is something we can all do together and use our networks of friends to raise money for such an amazing cause."
Kat said, "Originally Dad only ever talked about dying at home with just my mum around him as he doesn't ever want to make a big fuss. I felt so sad that my mum would be alone in his final moments. Who would support her? She always puts on a brave face and worries more about us than herself. Dad is now open to living his final moments at the hospice if he can, and regardless as to whether any of us can or can't be with him, I know that he will get the best care and I know that my mum will be supported throughout which is so important to all of us.
"We are doing this for him, to show him that whatever care and support he needs, we are right behind him every step of the way. Whether that be time, love, fundraising or baking the miniature Victoria sponge cakes that he loves, we will be there, till the end. Nothing he needs is ever too much."
After cancelling last year's event due to the pandemic, the charity's 13th Havens to Havens Walk – sponsored by Create 98 – will see families and friends come together in honour of loved ones to fundraise for its specialist palliative nursing and supportive care.
This year's walk starts Little Havens in Thundersley, taking walkers on a five mile route passing through Belfairs Woods, along the Prittle Brook Greenway, then on to its new finish line, the new Fair Havens Hospice located opposite Priory Park in Prittlewell where supporters can enjoy a well-deserved rest, entertainment and refreshments. Walkers then have the choice to either continue by foot back to Little Havens to complete a total of ten miles, or to take a coach back to the start to pick up their medal.
The walk usually attracts more than 300 supporters every year and the hospice charity hopes that this year's event will be the biggest yet as it celebrates the first year of walking to its new adult hospice after last year's event was cancelled due to the pandemic.
Jane Hopkins, event organiser at Havens Hospices said, "We cannot wait to welcome walkers back to our much-loved Havens to Havens Walk, one of our major fundraising events for 2021, where every step, and every pound will be 'Making every day count.'
"We don't charge a penny for any of our care services and that's thanks to the support and generosity of the community who take part in events like the Havens to Havens Walk."
The event is suitable for all ages and abilities and is great fun for all the family with an activity sheet for younger visitors to complete along the route.
Additionally local art and creative studio and sponsors of the event Create 98, will be holding workshops for those signed up to the event to create personalised silk flags for those who have signed up to walk with on the day. Participants can book a session on Saturday 14th August between 2-4pm. To book please call the studio on 01702 716 157.
Entry for the walk is just £15 per adult, £5 per child or £35 per family, two adults and two children. When signing up there is also an option to purchase a Havens Hospices t-shirt for an additional £6 but this is only available in adult sizes and is to be collected on the day.
For more information and to register visit www.havenshospices.org.uk/havenstohavens
Contact us