As part of Dying Matters Week (10th-16th May), Havens Hospices is highlighting how palliative care isn't entirely about the end of someone's life. The theme of the campaign asks "Are you in a good place to die?" encouraging conversations about death, dying and bereavement.
Fulvio Corallini – a father of two from Westcliff – spent a week at Fair Havens last summer to help control pain caused by stage four lung cancer. Whilst the 49 year old died in hospital shortly after he was discharged, wife Dawn says that spell within the hospice '..restored his faith and trust' in asking for help.
The diagnosis of lung cancer was a shock for Fulvio. He'd had a cough for a couple of weeks, but hadn't been unwell otherwise, still going to work as a fabricator welder.
On 31st December 2019, the cough became worse and Fulvio reluctantly went into hospital, expecting to be discharged so he could celebrate the New Year with his family. But he was kept in overnight to drain fluid on his lungs. When he was discharged, he carried on working.
When Fulvio was diagnosed with stage four lung cancer, that had spread to his bones and lymph glands, treatment was started straight away, but still Fulvio kept working. When talk started around palliative care, Dawn says that, "…threw him completely. In his head, he had two years left because of the treatment he was on. He didn't want financial help like benefits because he was still working."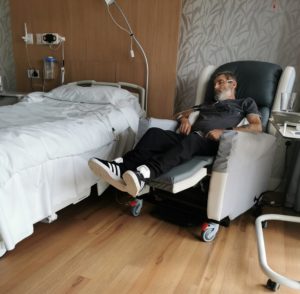 During the initial lockdown, Fulvio had lost weight and become weak. Dawn says, "He needed and wanted to do something, so we'd go for a walk. At the start, he was breathless by the end of the road but within a few months we were walking around Priory Park, right opposite the hospice. Without lockdown, we wouldn't have had that opportunity, spending time together, just the two of us."
Fulvio had a negative experience at hospital. "After that, he just refused to go anywhere. He didn't want to leave home. His pain became so horrific I begged him to go back to hospital because I was at a point where there was nothing I could do for him.
"Even when we were told there was a bed at Fair Havens and the taxi turned up, he didn't want to go. He was so frightened, it made him vomit. But within days of being at the hospice, they knew what medication he needed to be on and sorted his care plan. He was a different person. I could see glimpses of the Fulvio I knew – jovial, joking with the Care Team. I hadn't seen that for so long because of the pain.
"Fair Havens could not do enough for Fulvio. The specialist chairs meant he could lay in a comfortable position. They'd open up the doors for him at 4am because he couldn't sleep and wanted fresh air. He loved the food so much, he'd try anything. They even arranged for him to have a radiotherapy session at the hospital, transporting him back and forth.
Special Memories
"One of the most special memories they created was for us as a family. Visiting was restricted to two people because of the Coronavirus, and my youngest daughter wanted to see her Dad. So we all met at the Saxon King pub, just across from the hospice, and all had lunch together. Fulvio used a wheelchair, which was a big deal for him. The girls met us outside Fair Havens, met some of the staff who then waved us off.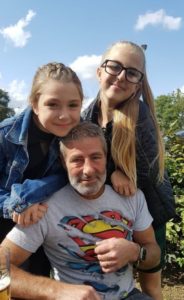 "It was great for him to spend quality time with us all. When we got back to the hospice, he told the Care Team all about it. At that point, we didn't know he would pass away a week later."
Fulvio was discharged from Fair Havens, but his pain became so bad again a few days later they called for an ambulance and he was taken to hospital. He died on 23rd July 2020, just days before he was due to start a new chemotherapy treatment.
"Fulvio only spent a week at Fair Havens, but that was what he needed, They restored his trust and faith in asking for help. If it wasn't for Fair Havens and the calm environment and approach they have, he would have refused to go back into hospital and ended up dying at home, which wasn't what we wanted. Fair Havens gave Fulvio the confidence that the right care would now be in place for him."
For Dawn, Fair Havens gave her a break too, knowing that Fulvio was getting the care that he needed and that his pain would be managed. "For us, Fair Havens wasn't about dying, it was getting Fulvio's pain under control so we could have that small window of quality time together. I wasn't scared or worried to leave him at Fair Havens. The relaxed atmosphere is what helped us so much."
The charity's Wellbeing Team continued to support the family after Fulvio died, working with the school to arrange therapy sessions for their youngest daughter.
"Fair Havens helped Fulvio to accept help"
Dawn says, "I wanted to be part of this campaign to show other people what hospice care can achieve. Everything happened so fast at the end of Fulvio's life, but I know that without the intervention from Fair Havens it would have been much more traumatic for all of us. The hospice gave us space to think, reflect and come to terms with what was happening to the family. We can be confident that, mentally, Fulvio was in a 'good place to die' because he'd finally started accepting help. For him, that was a big deal and I feel that Fair Havens helped him to achieve this."
Havens Hospices has a range of wellbeing resources to help children talk about death, dying and bereavement available at www.havenshospices.org.uk/resources/
Published 7th May 2021
Contact us