Dr Grahame Tosh is Medical Director of Havens Hospices. He originally worked at the charity's adult hospice, Fair Havens in Southend, Essex, in the 1980's and helped to set up Little Havens the following decade. After working in other areas of palliative care in the UK and overseas, he returned to Fair Havens in February 2020 to help the charity transition to its new, £17.2 million hospice, before the pandemic broke out the following month.
Grahame says, "In the original days of Fair Havens, it felt like a club. The pioneers of the hospice really helped to get the charity off the ground, and all those who worked around them were very passionate – about the care, the charity and the building. I worked at Fair Havens in the early days as a volunteer doctor supporting Dr Michael Stuart who was the original Medical Director whilst I was training in anaesthetics, before moving to the north of England to switch specialties and complete my training as a consultant in Palliative Medicine. I thought we would settle in Yorkshire, but was approached to come back and work as a consultant across Southend Hospital and Fair Havens.
"When we returned to Essex, my wife – who is a nurse – and I decided to foster children with complex health needs, as we were comfortable with the medical aspect of their care. Two of the children we cared for were supported by hospices in Norfolk and Cambridgeshire, which was a really long way to travel. We discussed this with the team at Fair Havens which sparked the idea for Little Havens."
After five years Grahame left the hospice to work in other settings, primarily the hospitals at Southend and Basildon where he stayed for the next 15 years. "It was a difficult time as Little Havens was being developed which I was very passionate about, but upon reflection, I knew I needed to spread my wings."
During this time, Grahame became involved with another charity called Cairdeas which provides palliative training, mentoring and support to countries in Africa and Asia. Grahame visited India to support local teams set up services there.
In 2012, Grahame left Southend and spent nearly three years working for a hospice in New Zealand (Otago Community Hospice), whose population was spread over an area the size of Wales.  Upon his return, he worked at Queens Hospital in Romford and later became Medical Director for Marie Curie with the intention of retiring after his post came to an end. However, he was approached by Director of Care Ellie Miller at the retirement celebration for the charity's outgoing consultant. "I had no intention of returning to Fair Havens, and had to think long and hard about coming back. It was an uncomfortable separation in 1997, but the organisation has now changed beyond recognition. So I returned to help the charity establish itself in the new building."
The plan was to train the nursing staff throughout February 2020 and open the following month. On 9th March, Fair Havens cared for its first patient in the new building, and two weeks later the country went into lockdown. Care, however, continued at Fair Havens. "I think I helped Fair Havens maintain a sense of stability during that time as I'd had experience with infections and viruses such as swine flu, SARS and MERS, so knew the type of planning we'd need to do. Whilst this pandemic has been incredibly tough, we've been able to work our way through it at Fair Havens and have actually exceeded expectations by caring for many more patients.
"The team responded brilliantly to our challenges throughout the pandemic. We hadn't even had the chance to settle into the new hospice, when the pace of change increased, our patients had more complex conditions, some with and some without Covid. We increased our capacity to support our colleagues in the NHS to help relieve pressure. That is not down to one person – everyone had a part to play in making that happen as not only did we care for those who were seriously ill, but we dealt with our own staff sickness, isolation and bereavement.  Throughout all, our focus has remained that we provide really good care."
Grahame started at the same time as Dr Rachael Marchant, a local GP with passion and expertise in palliative care. Together, along with the whole care team, they have implemented outcome measures for patients which outline the effectiveness and efficiency of care. This has helped lead to an 80% increase in the number of patients cared for compared to the previous years. The time between referral and admission has also drastically reduced, thanks to the relationships the team has built with other healthcare professionals at the hospital and community.
"I think Fair Havens is hugely respected in the community because of its contribution to caring for local people. But I also know that without the community, Fair Havens wouldn't exist. Even in the last 20 months when income has been hit dramatically by the pandemic, people have still stepped up. There is a real love for this organisation and a wish to see it thrive. We have a superb, professional organisation that can hold its head up high."
The care at Fair Havens will continue under the guidance of its in-house medical team, supported by consultants at Southend University Trust Hospital NHS Trust.
To watch a video of Grahame reflecting on his time at Havens Hospices, visit the charity's YouTube channel.
To find out more about Havens Hospices, its care and fundraising, please visit www.havenshospices.org.uk or follow the charity on social media @HavensHospices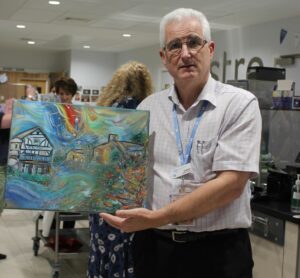 Published 27th October 2021
Contact us