A former art teacher from Leigh has brought a touch of creativity to Fair Havens whilst she is being cared for at the hospice.
Colleen Worley, 64, taught at Brentwood Ursuline Convent High School, St Bernard's High School in Westcliff and Lancaster School in Southend, before retiring in 2011.
Trained at Maidstone College of Art, Colleen was voted by fellow students to have her work exhibited in the Royal Academy of Arts.
Although Colleen has painted in the past, she now specialises in mono-printing – one off pieces that can't be reproduced so they're truly unique.
Her exhibition of latest work – produced from 2018 to as recently as this year – is entitled 'Falling.'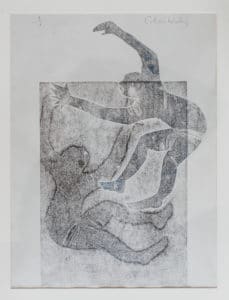 "I have often tripped or fallen on ice, wet floors, cobbles, seaweed and even a railway signal wire. I seem to have an inability to look down or to anticipate what is ahead.
"During the fall, there is a moment of suspension before landing, then lying prostrate and shaken, there is a check for injury and awareness to pain, before I regain composure and a vertical stance.
'Falling' has become a metaphor. Over the last decade, bereavement and treatment for cancer have seemed like a falling from a worldly life. I have had to recover, to 'get up' from the emotional and physical falls, brush myself down and carry on.
"The falls get harder."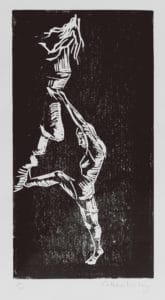 Colleen is currently staying at Fair Havens as she has cancer which was originally diagnosed in 2013 and now requires palliative care. Because of lockdown, the public exhibition didn't go ahead as planned so the Care Team arranged for the pieces to be displayed in the Patient Lounge on professional artist easels. They were viewed by Colleen's visitors, as well as other patients and their families.
With the permission of Colleen and her family, we are sharing these with our supporters as a 'virtual exhibition' so more people can enjoy and appreciate Colleen's amazing talent.
These pieces have been professionally captured by local photographer and family friend Paul Tait. The full exhibition can be viewed on our Facebook page
Published 25th September 2020
Contact us